Your go-to personal finance resource.
Make your money work harder for you. Find out about the key features to look out for when selecting an endowment and the best insurance savings plans here!
Read More »
Did someone mention the AIA HealthShield Gold Max shield plan to you? Here's our review for you to make an informed choice for yourself. Click here to read.
Read More »
Aviva MyShield – rebranded to Singlife Shield. If you're looking for a plan with a rider, Singlife Shield is one of the cheapest. Click here to read our review.
Read More »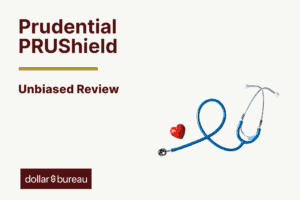 Considering Prudential's PRUShield Standard, Plus, or Premier plans? We reviewed all of it and shared our opinion. Click here to check it out.
Read More »
The Dollar Bureau partners with selected MAS-licensed financial advisors to provide you with unbiased financial advice.