The AXA Pulsar is an investment-linked plan (ILP) that mainly focuses on investments. This ILP has one of the highest rates of returns available on the market as it allows you to invest in its various unique sub-funds.
Criteria
You need to be between 18 to 70 years old to be a policyholder (the owner of the plan)
You need to be between 1 month to 70 years old to have your life assured under AXA Pulsar.

This is if your entry age + the premium payment term chosen is below 75 years old.
General Features
Premium Payment Options
Policyholders can either invest in SGD (Singapore Dollar) or USD (United States Dollar). You cannot alter the policy currency once the issuing of the policy is complete.
Depending on your payment frequency, these are the minimum regular premiums:
Monthly –  S$300
Quarterly – S$900 or US$900
Semi-Annual – S$1,800 or US$1,800
Annual –  S$3,600 or US$3,600
Premium Payment Terms
The premium payment term for the AXA Pulsar policyholder is between 5 to 30 years. After selecting how long you would like to make premium payments, you can then choose how often you'd like to make the premium payments based on the above.
Premium Accounts
Pulsar has 2 premium accounts.
Initial Units Account (IUA) is where your premiums will be first deposited until the 18th month of your policy. Investments made during this period are called the Initial Premium Payment Term.
The start-up bonus, alongside the first 18 months of premiums with any interest earned, shall be locked inside this account until the Premium Payment Term is completed.
Accumulation Units Account (AUA) collects your investments starting from the 19th month onwards. If you make any top-ups, they are added to this account.
Withdrawals are also made from this account and are free as long as you meet the minimum withdrawal amount.
More on this later.
Policy Top Ups
You can add top-ups at irregular intervals along with your regular premium after 18 months from the commencement of the policy till the age of 99.
This will help to increase your fund value.
The minimum ad hoc top-up is S$5,000 or US$3,000. However, you are subject to a 5% premium charge should you decide to apply for such top-ups.
Non-Lapse Guarantee
For the first 18 months, if your policy value drops to zero because of investment performance and/or fees deduction, AXA Pulsar offers a non-lapse guarantee.
However, after the grace period, the guarantee will stop if regular premiums remain unpaid.
Policy Termination
The policy will reach maturity when the life assured becomes 99 years old. It can also be terminated when the money in the account falls below the minimum account balance. In such cases, you will get the surrender value.
You can also terminate your policy in case you wish to surrender your policy. In such cases, an early encashment charge is deducted from your total account value.
Plan Flexibility
These are one of the few selling points of AXA Pulsar.
Premium Holiday
Policyholders can apply for a premium holiday after the first 3 years. The length of the premium holiday depends on the length of your premium payment term. This is granted if you have enough account value to cover the policy charges.
If the premium payment term is at least 10 years, you can take up to 5 years' worth of premium holiday. If the premium payment term is between 5 to 9 years, you can take up to 3 years' worth of premium holiday.
For the first 36 months, in case you cannot pay your regular premium payment, the company offers a grace period of 31 days. After the completion of this period, the policy will be forced to lapse.
After the first 36 months, in the event you cannot or choose not to pay your regular premium payment, you will be allowed to apply for a premium holiday as long as there is sufficient value inside the AUA to cover the charges minimally.
The duration of the premium holiday depends on the premium payment term.
Premium Adjustments
If there is a scenario where you will need to reduce your premium payments (if your monthly premium is at least $500), you are allowed to do so from the 36th month onwards.
However, your maximum reduction is only up to 25% of your original premiums, and you will still have to meet the minimum regular premiums, as mentioned above.
Partial Withdrawals
During the Premium Payment Term
During the premium payment term, you can only withdraw from the Accumulation Units Account (after 18 months).
After the Premium Payment Term
After the premium payment term, you can start withdrawing from either the Initial Units Account or the Accumulation Units Account.
Minimum withdrawal amount:
US$ 500 for a minimum balance account of US$3,600
S$1,000 for a minimum balance account of S$3,600
However, with continuous withdrawing, if the account value is down below the minimum account value, the policy will get terminated, and you will receive the surrender value.
Protection
Death Benefits
If the life assured dies after one year from the issue of the policy, the death benefit is paid to the beneficiaries as per the elected benefit: basic or enhanced.
Basic: get 101% of the account value.
Enhanced: get 101% of the account value or; the total of the regular premium top-up that has been added. All withdrawals made will be deducted.
Life Replacement Option
A life replacement option (LRO) is available in case of the need to replace the life assured. You can get this done by writing a request to the company, and it will become active after the next month. This is useful in the event should you wish for your spouse or child to take over the policy as a policyholder.
Key Features
Startup bonus
AXA Pulsar offers a startup bonus for an added boost to your investment plans if you have a premium payment term that is at least 10 years. The startup bonus is added to your initial account with the completion of each premium payment in your plan in the first policy year.
Premium Band
Annualised Regular Premium
SGD($)
USD($)
1
$3,600 to < $4,800
$3,600 to < $5,760
2
$4,800 to < $9,600
$5,760 to < $11,520
3
$9,600 to < $16,080
$11,520 to < $19,320
4
$16,080 to < $24,000
$19,320 to < $28,800
5
$24,000 to < $48,000
$28,800 to < $57,600
6
$48,000 and above
$57,600 and above
Depending on how much you invest yearly, as seen above, use the rates below to determine how much bonuses you'll be receiving.
Premium Band
Premium Payment Term
10-14
15-19
20-24
25
26
27
28
29
30
1
2.4%
3.2%
3.2%
3.5%
3.9%
4.3%
4.8%
5.2%
5.6%
2
2.4%
3.2%
3.2%
3.5%
3.9%
4.3%
4.8%
5.2%
5.6%
3
2.2%
3.3%
3.7%
3.5%
3.9%
4.3%
4.8%
5.2%
5.6%
4
2%
3.3%
4.2%
3.5%
3.9%
4.3%
4.8%
5.2%
5.6%
5
2%
3.3%
4.5%
3.8%
4.2%
4.5%
4.9%
5.2%
5.6%
6
2%
3.3%
4.8%
4.3%
4.6%
4.8%
5.1%
5.3%
5.6%
If you get an investment with AXA Pulsar, they provide you with enhanced returns in growing markets while protecting your assets in declining markets.
If you minimally opt for a premium payment term of 10 years with a minimum regular investment of S$3,600, you'll fall in band 1.  You can expect to get a startup bonus of 24% (2.4% x 10 years) for the first year.
If you opt for a premium payment term of 30 years with any investment amount you choose, you can expect to get up to 168% (5.6% x 30 years) of startup bonus for the first year.
Loyalty bonus
If you have a premium payment term of 20 years and above, and your policy is still active, you are eligible for the loyalty bonus.
On the 10th anniversary of the policy, Pulsar offers you a bonus, which is 4% of the total premiums collected in your account.
To illustrate this, assuming your premium payment term is 30 years, and you invest $1,000 monthly ($12,000 annually). After 10 years, you would have invested $120,000 in total (assuming no top-ups and withdrawals).
4% of this $120,000 is $4,800 added to compound for the remainder of your policy term!
Fund offerings
You can invest in 1 to 10 sub-funds out of 101 sub-funds available, inclusive of both in-house (AXA funds) and external funds. Since there are many sub-funds for you to choose from, this means that you can select those depending on your risk appetite.
We've compiled for you AXA Pulsar's top 10 performing sub-funds, their annualised returns, and the risk level each sub-fund entails.
AXA Pulsar's Top 10 Performing Sub-Funds
The AXA Pulsar invests in unit trusts.
More importantly, it invests directly into the fund instead of a company sub-fund.
| | | |
| --- | --- | --- |
| Name of Fund | 5-Year Historical Average (%) | Risk Level |
| Franklin Technology A Acc USD | 23.17 | Aggressive |
| JPM Greater China A Acc NAV USD | 16.76 | Aggressive |
| Threadneedle Global Smaller Companies AE USD | 14.70 | Aggressive |
| AB FCP I – Sustainable US Thematic Portfolio AH SGD | 14.54 | Moderately Aggressive |
| BlackRock GF World Gold A2 Hedged SGD | 13.89 | Aggressive |
| Nomura Japan High Conviction A USD | 13.67 | Moderately Aggressive |
| Schroder Asian Growth SGD | 13.20 | Aggressive |
| Fundsmith Equity Sicav R Acc EUR | 12.95 | Moderately Aggressive |
| Templeton China A Acc SGD | 12.44 | Aggressive |
| AXA China Growth | 12.41 | Moderately Aggressive |
Accurate as of November 2020
Source: https://www.axa.com.sg/fund-prices/
Disclaimer from AXA:
Any projections contained in the information are estimates only. Such projections are subject to market influences and therefore, may not be realised in the future. Historical returns are no guarantee of future performance.
Any advice contained in this presentation is general advice. It has been prepared without taking account of any person's objectives, financial situation or needs, and because of that, any person should before acting on the advice, consider the appropriateness of the advice having regard to their objectives, financial situation and needs.
Fees
As with all investment products, there ought to be fees incurred. These are the fees you will face when investing with AXA Pulsar.
Bonus Recovery Charge

For every time you reduce your premium payments, this charge will be imposed
Will be deducted from the Initial Units Account
Charges vary depending on the reduction amount, premium payment term committed, and premium payments made

Account Maintenance Fees

The account maintenance fee is 4% of the account value based on your Initial Units Account.
This is payable monthly

Investment Management Fees
A monthly investment fee charge of 1.5% / 12 from the total account value.
Administrative Fees
A monthly administrative fee is charged: US$8 or S$10
Policy Maintenance Fees

Monthly payments
0.5% / 12 * annual regular premium

Insurance Charges

Only levied if the Enhanced Death Benefit is selected
Payable monthly
Starts from $0.55 per $1,000 sum at risk

Early Encashment Charges (EEC)

There will be an early encashment charge to your account if you wish to surrender or terminate the policy before completion of the premium payment term
The EEC is deducted from your Initial Units Account
The charges depend on how many years you have left until maturity

Here are AXA Pulsar's surrender charges:

Fund Management Charges
The management charge of your policy varies with the sub-fund of your choice and are not fixed
Switching and Redemption Fees
Currently, there are no fees for switching and redemption fees
Top Up Fees
Each top-up that you add to your account value is subject to a 5% premium charge
Compulsory Fees
Yes, although there seems to be a lot of fees involved with AXA Pulsar, not every fee will apply to you. If you were to commit to the policy (in SGD) from start to maturity without any changes, these are the fees you will incur:
Account maintenance fees (4% from IUA)
Investment management fees (1.5% from IUA + AUA)
Administrative fees (S$10)
Policy maintenance fees (0.5% from yearly premiums)
Therefore, every year you will be incurring about 6% + $10. This is seemingly more expensive as compared to other investment plans available. Do take note that this is an overestimation as some fees are based on your Initial Units Account while the others are based on the total value.
However, AXA Pulsar's access to unique sub-funds has proven to generate seemingly higher returns as well. Yes, past performance doesn't equate to future performance, but it serves as a good index to its reliability.
Although it may seem that you won't make that much returns with the fees above, you will need to select the right sub-funds to grow your investments.
How much will I receive upon maturity of the AXA Pulsar?
We engaged an AXA advisor to do the calculation for you, and apparently, the analysis is not as simple as you think. However, we'll try to make it as simple as possible.
Assuming that you invest $300 monthly for 30 years, the funds perform at 10% per annum, no withdrawals were made, and you did not take up any premium holidays, you can expect the below:
| | |
| --- | --- |
| Monthly Premium: | $300 |
| Premium Payment Term: | 30 years (360 months) |
| Annual Fund Performance to Breakeven: | 1.81% |
| Net return rate per annum: | 8.19% |
| Total Premiums paid after 30 years: | $108,000.00 |
| Total Investment Value after 30 years: | $425,490.57 |
| Total Interest Earned: | $317,490.57 |
| ROI: | 293.98% |
Now, the reason why the fees were not shown as 6% + $10 fees in the calculation is that according to the AXA advisor, the startup and loyalty bonuses will technically "reduce" the fees you incur.
Therefore, AXA considers a breakeven point where your fund will have to perform at before you start seeing actual returns. This breakeven point depends on your monthly investments and the payment term you choose.
Below is the estimated breakeven table provided by AXA.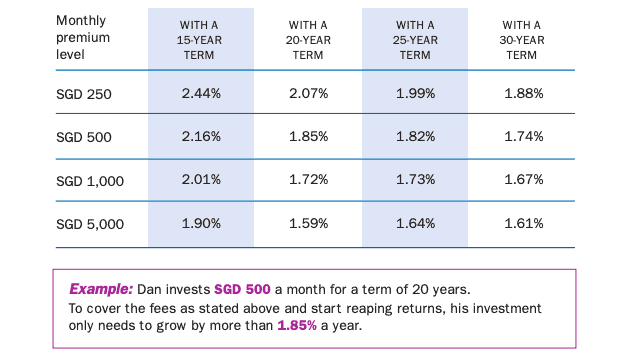 Source: https://myaxa-singapore.cdn.axa-contento-118412.eu/myaxa-singapore%2Fcb0b086a-1e9b-4ef8-8264-ae71250fed75_introduction-to-pulsar-english.pdf
The above breakeven yield tables assume that 4 conditions are met:
No partial withdrawals were made during the Payment Premium Term
No premium holiday was taken up during the Payment Premium Term
No ad-hoc top-ups were performed Payment Premium Term
No surrender made during Payment Premium Term
The latest breakeven table is not available yet. Please use this as a guide instead.
Customer's Bad Experiences with AXA Pulsar
Yes, if you were to Google for AXA Pulsar, you will notice a few forum threads indicating how AXA Pulsar has been a "cheat" for those who invested through it. Many cited that AXA Pulsar's fees were too high and that it was eating into the returns they were getting.
Essentially, they were making little to no returns on the policies they placed. Are they wrong? I don't think so. AXA Pulsar's fees are indeed higher than what you can find in the market.
However, what makes AXA Pulsar great is the selection of sub-funds available for you. This means that you should be choosing the funds with the highest returns relative to your risk tolerance while profiting from the policy.
Furthermore, the sub-funds are directly invested, which means you won't incur additional fees on top of your actual returns.
These sub-funds are usually recommended by your financial advisor. Most of the problems faced by the majority are due to their financial advisor's lack of management and monitoring of their policies.
A good financial advisor who knows how to choose the right funds for you will help you grow your wealth instead of losing it to fees incurred. Even non-AXA agents agree that AXA Pulsar's ability to perform supersedes the fees it charges. If non-AXA agents say this, who am I to disagree?
Based on the enquiries that we receive on our blog, another problem that consumers face is the mis-selling of policies.
Some agents tell them that the AXA Pulsar has an unlimited premium holiday, when in actual fact there's a cap of 5 years.
There was one that even mentioned that their agent said he could surrender his plan without fees on the 6th year!
Therefore, proper selection of funds and an agent determines whether you'll end up breaking even or growing your capital!
SFP Advisor's Take on AXA Pulsar
AXA Pulsar is a suitable investment platform for those who are looking to invest with minimal effort and ease of paperwork & research. Moreover, there is also exclusive access to boutique funds that a retail investor would typically not have access to.
At the end of the day, if you're looking for a medium to long-term investment option while ensuring that subjective, difficult, or emotional scenarios are being taken care of as your life gets more complex (marriage, housing, kids, retirement, etc), investing through Pulsar, via a RESPONSIBLE financial advisor might be your best bet.
A financial advisor will be present to sit through different stages of life together with you and therefore tailor advice in accordance with your wants, needs and personality.
Bear in mind, due to the relative ease of investing via a financial advisor and a fund manager, the fees of every investment plan are considerably higher as compared to other investment platforms in the market. However, investing through financial advisors saves the precious time and effort needed to do your own investments.
My Take on AXA Pulsar
Based on the product summary, AXA Pulsar is a highly attractive investment option for those looking to invest in the short to long term (5-30 years).
It also provides a very attractive startup and loyalty bonuses that help boost investments. This, coupled with the flexibility of the plan in terms of payment periods and the premium payment terms, makes it difficult to resist.
I'd have to reinforce that AXA Pulsar's fees are relatively high at 6% + $10. These fees, however, are partially "neutralised" by the bonuses provided.
Furthermore, it depends on the capabilities of the financial advisor chosen and the trust that you have for him/her. Without a good advisor, you risk breaking even your returns to the fees.
Therefore, your financial advisor has to actively play a part in monitoring the fund's performance and make amends where he deems best. Only then can you benefit from AXA Pulsar.
Otherwise, I personally find that Manulife's InvestReady Wealth II is a better option due to their extremely low fees for an ILP, or even the AIA Pro Achiever. Their funds may not be as strong as AXA Pulsar's, but the lower fees don't eat into your returns as much as they would.
This is especially true during a poor economic year where fees will take up most of your returns!
Another ILP that invests directly into the funds is the Tokio Marine GoTreasures and Tokio Marine #goClassic.
But they too have similar fees to AXA Pulsar.
Perhaps our guide to the best investment plans in Singapore might help.
Otherwise, the best way to recognise whether an investment plan is suitable for you is to consult a financial advisor.
Get a second opinion from financial advisors to understand if AXA Pulsar is for you.
References
https://myaxa-singapore.cdn.axa-contento-118412.eu/myaxa-singapore%2F09f146ba-b97b-46ec-82a5-6890f72eb831_pulsar+%28en%29_oct19.pdf
https://myaxa-singapore.cdn.axa-contento-118412.eu/myaxa-singapore%2F7c684544-dc88-43f4-a04b-b1838bf05267_pulsar+ps+apr+2020.pdf